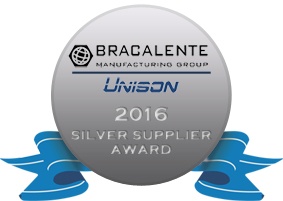 Bracalente Manufacturing Group has been presented with the 'Silver Supplier Award' by Unison Industries in recognition of our commitment to delivering an unmatched customer experience, precision machining and defect-free products, and on-time shipments. The award also recognizes our participation in Quality AMP events and our dedication to continuous improvement.

Unison Industries, a subsidiary of GE Engine Services, Inc., is a leader in mechanical and electrical systems and components for aircraft engines and airframes. Serving both OEMs and aftermarket customers, the company develops a multitude of products for use in general, commercial, and military markets.

Some of the components manufactured by Unison include piston and turbine engine ignition systems, electrical control systems, panel assemblies, brackets, flex joints, and bellows assemblies. Due to the complexities of these parts and the environments in which they're utilized, attention to detail and the use of high-quality materials during the manufacturing process is essential.
Topics: Awards