Prototype to Production Infographic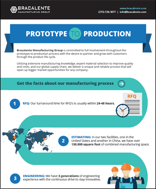 Here at Bracalente Manufacturing Group, we're committed to being fully involved in each and every step of the prototype to production process.
Within our resource, Prototype to Production Infographic, we offer an exclusive and detailed look at our manufacturing process. Some of our industry-leading qualities you'll learn more about include:
3 generations of innovative engineering experience
Over 100 skilled metalworking employees in our global supply chain
And much more!
Fill out the form to the right to access and download your copy.
If you have any questions, be sure to speak with a Bracalente representative today.