Type of metal, as well as plating and coating methods, must all be considered in order for your project to succeed.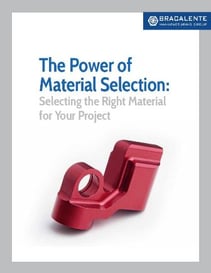 Choosing low-cost materials in an effort to save costs is one of the most common mistakes made in designing new products. While it is true that material selection plays an important role in determining the overall cost of a part, making that selection based solely on cost is not advised. In fact, it can lead to part failure and higher costs down the line.
We at Bracalente have decades of experience in custom manufacturing. With our new eBook, The Power of Material Selection: Selecting the Right Material for Your Project, we can share some of the knowledge gained from that experience with you. We want to help you avoid the pitfalls of the material selection process.
Topics: Material Selection